How to Organize an Unforgettable Outdoor Birthday Party for Your Child
As a parent, your child's happiness is always a top priority, especially when it comes to special occasions such as birthdays. Birthday parties are an opportunity to celebrate your child's milestones, and what better way to do that than with an outdoor party? Imagine the sheer joy on your child's face as they run around with their friends, playing party games, enjoying delicious food, and creating unforgettable memories. In this blog post, we will share some tips on how to organize an outdoor birthday party for your child.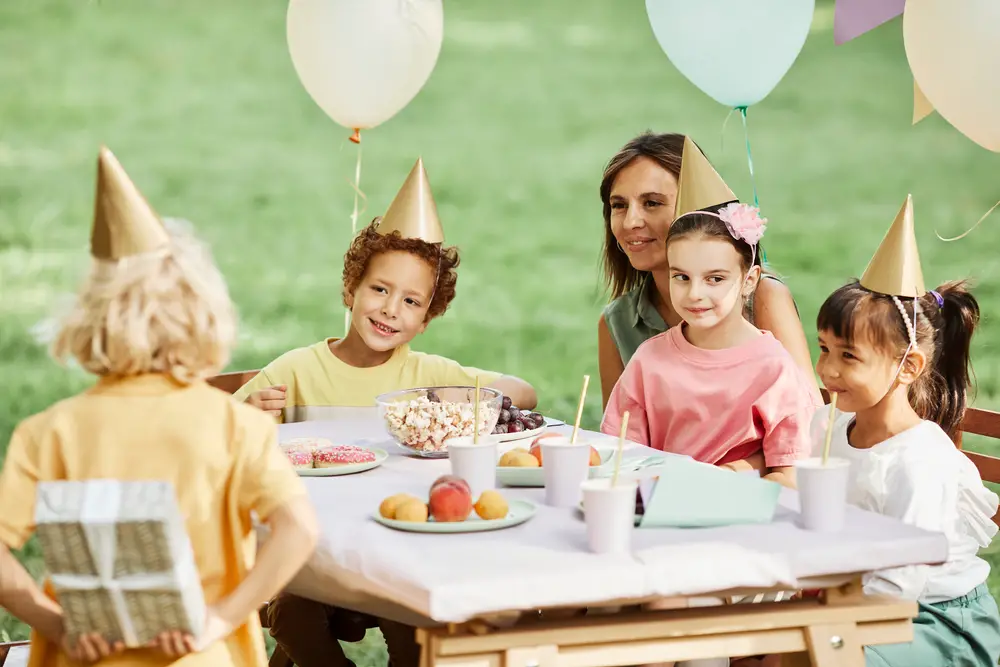 Choose the Right Location: The location of the party will have a significant impact on the experience you provide your child and their friends. A spacious open field in a nearby park with trees for shade, picnic tables and restrooms would be ideal. This setting will provide plenty of room for games and other activities, shade to protect guests from the sun, and restrooms to ensure that everyone can freshen up and handle nature's call. When scouting for outdoor locations, aim for parks, public gardens, or other open spaces where you won't need permits.
Party Games: Children enjoy playing party games during birthday parties, so be sure to plan more games than you think you may need in order to keep them occupied the entire time. Planning the games is also a great way to include your child in the party preparation. A few great ideas to get you started: Nerf gun battles, water balloon fights, mega slip and slide, and if it's age-appropriate (and you're able to take all the proper safety precautions), an airsoft gun war. When it comes to airsoft games and Nerf gun battles, ensure that you provide protective gears such as helmets, goggles, and vests for participants. Additionally, it's also essential to create clear boundaries and rules to minimize the risk of accidents.
Food and Drinks: Outdoor birthday parties require refreshments and snacks to keep the kids fueled and energized. Depending on your budget and personal preferences, you can set up a potluck, order pizza, or hire a caterer. If you plan to cook on-site, consider grilling burgers or hotdogs, as they are crowd-pleasers, or any meal that's easy to prepare, such as sandwiches, pasta salads or pizzas. It's also essential to have various juices, sodas, and water on hand.
Create Fun Decorations and Event Flyers: You can create awesome DIY decorations that will add a personal touch to your child's big day. First, gather natural materials like tree branches, leaves, and flowers to use in your decorations. Create a fun photo backdrop by stringing together twine and hanging up paper cutouts of pine trees and other outdoor themed shapes. Use wood logs as table centerpieces and create rustic name tags for your guests by writing names on wood slices with a permanent marker. Hang balloons and streamers in coordinating natural tones, and add a fun DIY welcome sign at the entrance of your event. Your DIY decorations will not only be budget-friendly, but they will also set the perfect tone for your outdoor celebration.
Invitations are essential for any birthday party, and creative flyers can help generate excitement among your child's friends. To get started, use a free online template with plenty of available options, from fonts to artwork to themes. Let your child help create the flyer to make it even more special. Next, craft a catchy title and add pertinent details such as the party venue, date, and RSVP information. Finally, share the flyer on social media, email it directly to the parents of your child's friends, and print copies to hand out at school.
Organizing an outdoor birthday party for your child is a rewarding experience that requires careful planning and organization. From choosing the right location, planning party games, deciding on the menu, and creating invitations with fun event flyers, there are many things to consider. With a bit of creativity and patience, you'll be able to provide your child and their friends with an unforgettable celebration they'll look back on with fond memories. So go ahead and plan that perfect outdoor party and let the fun memories roll in!